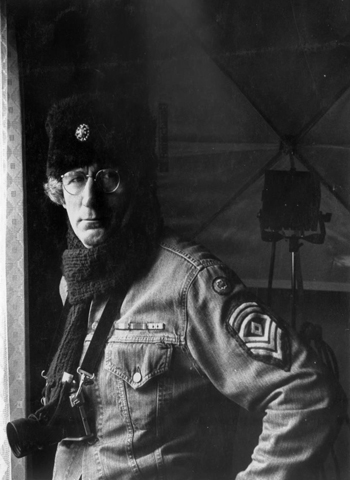 The Convergence of Counter Social Movements: LGBT Community Politics and the Evangelical Right, San Jose, 1969-1982, Ted Sahl Exhibit and Lecture Tribute
Exhibit highlighting the history of the LGBT political struggle in San Jose, 1969-1982, presented by Danelle Moon, Director of Special Collections and Archives. Students, faculty, and community members interested in social movement history and particularly the history of the LGBT community should attend.
Samples of Ted's photography can be seen on the right side of our home page, www.defrank.org.
Dr. Martin Luther King, Jr. Library
San José State University
Special Collections area, Fifth floor
Exhibit will be on display through June 30th.
Congratulations to Sam, Jessie and Steve
January 2014 Volunteers of the Month
BIIIIIIIIIIINNNNNNNNNGGGGGOOOOOOOO!
Every Wednesday night the Billy DeFrank ballroom is alive w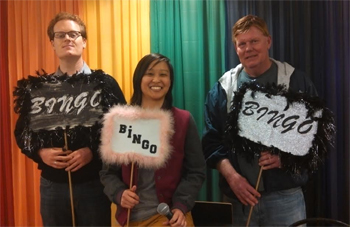 ith excitement as players, armed with their lucky charms and fabulously costumed daubers compete for cash and prizes. The incredible team that attends to the frenzy consists of no other than the January Volunteers of the Month! Sam, Jessie, and Steve are instrumental in keeping the party going! When asked what their favorite part of volunteering was, they all agreed: "Meeting nw people!"
Getting to know Sam (Left):
· Is an amateur linguist, has even taught himself Gaelic!
· Is a fantastic poet, catch him at the Billy DeFrank Library monthly Authorial Intrusion
· A self-proclaimed romantic at heart; otters, wolves, and muscle bears apply today!
Getting to know Jessie (Center):
· If she won big at Bingo she'd buy dinner for her friends
· When not volunteering she enjoys snowboarding and playing video games
· How to spot Jessie: Look for the rocking bow tie!
Getting to know Steve (Right):
· Has been volunteering at the Center on and off for 7 years!
· If he won big at Bingo, his winnings would go to Charlotte S. (good choice)
· His hobbies include reading, journaling, walking, TV, and movies